OUR NEXT ROUND STARTS MONDAY 4TH JULY 2022 AND INCLUDES:
6-Month Thinking Into Results Mentorship
(delivered with Bob Proctor & Sandy Gallagher) –
we'll be going through this TWICE together
to really get the full benefit of this life-changing programme.
That's
12 WHOLE MONTHS of hand-holding guidance and support
to move you quickly towards your C-Type Goal!
You'll be astonished at what you can accomplish in just a short period of time.
✅ Get crystal clear on your big 'C-Type' goal
✅
Close the knowing/doing gap between what you already know what you should be doing, and what you're actually doing.
Stop procrastination in its tracks and become super-productive!
✅
Re-programme your subconscious mind so you
exhibit success habits on auto-pilot
✅
Put the Law Of Attraction to work FOR you
, in your life and business and understand HOW manifesting really works!
✅
Learn how to stay in control of your thoughts and emotions
, so you stay on track no matter WHAT is going on around you
✅
Create a winning self-image
and unstoppable confidence
✅
Discover how to Trample The Terror Barrier so
fear never keeps you stuck again
✅
Align your behaviours with your beliefs
– you SAY you believe your goals are possible, but do you believe that at a deep, subconscious level? If not, they are unlikely to happen.
✅
Create an amazing attitude and the ability to
remain positive in all circumstances
✅
Become an amazing leader
that others follow because they want to, not because they have to.
✅
Learn to leave everyone you meet with the Impression Of Increase,
creating an upward spiral of attracting good
(and a phenomenal reputation!)
✅
Master the power of the mastermind – the ability to call on all
the people, resources and information you need to achieve your big goals.

'Lifetime Access' to the Thinking Into Results online videos, mp3s, participant guide, articles and worksheets
Once registered you'll have this material for life. As PGI consultants we study this programme daily - it's not just 'another course', it's a roadmap to achieving your goals.

3 Group 'Thinking Into Results' Calls per week

As a Certified Proctor Gallagher Consultant, Emma will walk you through the Thinking Into Results Mentorship programme, providing regular trainings, motivational booster sessions and Q&A calls.
Quarterly Q&A Call With The World's Leading Experts In Human Potential And Growth At The Proctor Gallagher Institute
As one of Emma's TIR clients, you're entitled to a regular group Q&A call with the world's leading experts on human potential and growth.
Unlimited And Exclusive Private Email & Facebook Messenger Access To Emma
Get your "how do I...?" questions answered, share wins, get feedback and stay accountable. You'll love how connected and supported you feel knowing Emma is right there with you!
** BONUS: Essential Oils For Personal Growth - Full Kit & Training (£197 VALUE) **
Emma's clients use essential oils to help them focus, sleep better, be more productive, visualise, feel energised, and get rid of harmful chemicals around the home that have been known to impede brain function, long-term.
You'll receive a beautiful kit of essential oils, plus a diffuser and bonus items AND 1-2-1 training from Emma on how to use it all!
HEAR WHAT THE BEAUTIFUL KRISTIN SAYS ABOUT WORKING WITH US AND THINKING INTO RESULTS ❤️:
AND HERE'S TRISH...
AND THERE ARE PLENTY MORE WHERE THEY CAME FROM...😊
(1 payment of £ 5,750 £4,750 today)
(Non-refundable deposit of £3,997 £2,997 today plus £49 per week, cancel membership to Ignite any time )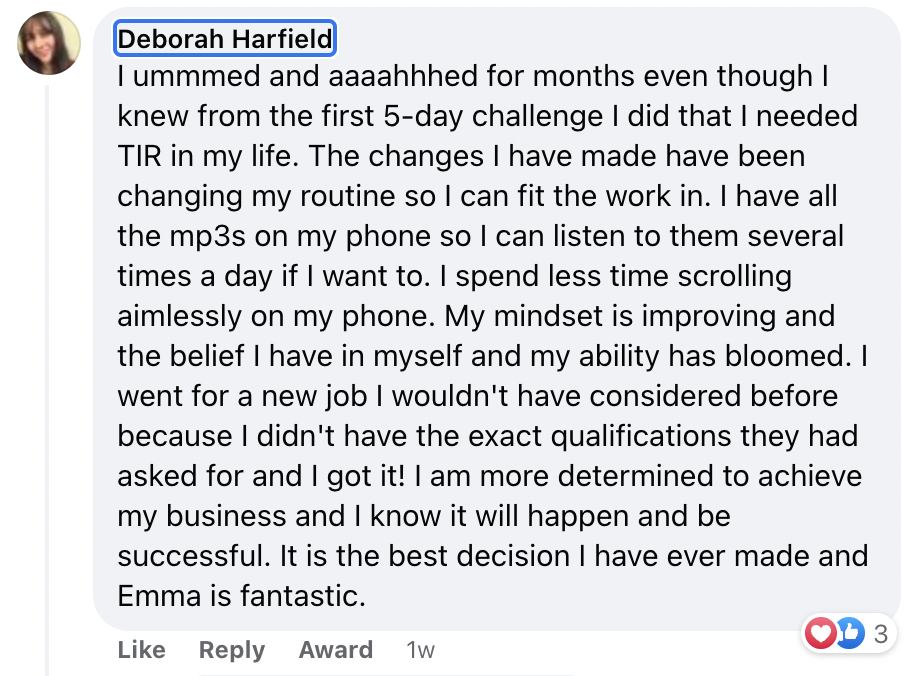 ---
**Here's What You ALSO Get, As An Ignite Member**
Access To My
Create Your Own 6-Figure Business Virtual Bootcamp
Daily Plug-N-Play Tasks To Build Your Business
: